Fall Is Here! | Newsletter | Carters Nursery, Pond & Patio
September 24, 2020, 8:27 am
Filed under:
Family time
,
Fountains
,
General Blog Entry's
,
God Bless America
,
Koi
,
Koi Ponds
,
Lake and Pond
,
Landscaping & Gardening
,
Love
,
music
,
Nursery
,
Outdoor Lifestyles
,
Pond Tips
,
Pondless Waterfalls
,
water garden
,
Waterfalls
| Tags:
Aquagardener
,
Autumn
,
Autumn Color
,
Autumn Leaves Falling on Water
,
Autumn Poem
,
Autumnal Equinox
,
Cold Water Beneficial Bacteria
,
Cool Season Water Treatments
,
Cool Temp Koi Food
,
Corn Stalks
,
Fall is Here
,
Fall Newsletter
,
Fall Weather
,
Fish Health
,
Get Outside
,
Jack-o-Lantern
,
Koi info
,
Newsletter
,
Outdoor Living
,
Pansies
,
Poems
,
Pond info
,
Pumpkin Carving
,
Ripples
,
Water Garden info
,
Water Treatments
,
Wheat Straw
Fall is Here! Here's a little newsletter we put out quarterly. 

https://l.facebook.com/l.php?u=https%3A%2F%2Fmyemail.constantcontact.com%2FAquagardener-FALL-2020-EDITION-from–CARTER-S-NURSERY–POND—PATIO-INC-.html%3Fsoid%3D1102731551606%26aid%3DjFwYBFvRu-w%26fbclid%3DIwAR0qdtyTOUvBmZpEY6hpA_jn36llzOf112cnrvHv99sNyb8qFzGue15vc9c&h=AT0e8duA74kC_QJUe6LSjn7gMNFQm_0HStQGMRAT89jayRtrMHfHedgophiwdtUup7cNfDAsTUyQZs7lny2nS5t0W9exxIWOFuRu7yq96s_OImtWY7AMm0Je6WwYjP7J&__tn__=%2CmH-R&c%5B0%5D=AT0QbhiV7tPyhcpU0DDxGRmxoQYl9WN6GeRJ7a2YGXt1ko19meqV45XXluDCrO6jtgmBC4eBGdzxzC2NXaDZ7bOxI__gLeWt1w6pNKGmKnLe2qHWbyuhDOUi17IGGAvffrROk2ZGMFIkczdm86Bg8VcPaXoivWuLxRtApd32c7wAiLByc5I

Have a great day! Fall is Here! 


Mark Carter
Carter's Nursery, Pond & Patio
2846 Old Medina Rd.
Jackson, Tn. 38305
Ph.# 731-424-2206
http://www.cartercountry.com

YouTube pg. –
https://www.youtube.com/channel/UC6dPkQiE04jcr385SOL0gkw

Facebook pg. – https://www.facebook.com/mark.carter.775

Pinterest pg. – https://www.pinterest.com/cartersnursery
Spring Newsletter | Carters Nursery, Pond & Patio | Jackson, Tennessee
March 11, 2020, 7:27 am
Filed under:
Family time
,
Food
,
Fountains
,
General Blog Entry's
,
God Bless America
,
Herbs
,
Hummingbirds
,
Koi
,
Koi Ponds
,
Lake and Pond
,
Landscaping & Gardening
,
Love
,
music
,
Nursery
,
Outdoor Lifestyles
,
Pondless Waterfalls
,
Sunrises
,
Sunsets
,
Videos
,
water garden
,
Waterfalls
| Tags:
2020 Events List
,
Aquagardener
,
Aquatic Plants
,
Carters Nursery Pond and Patio
,
Customer Appreciation Day
,
I ❤️ Spring!
,
Maintenance Workshop
,
Newsletter
,
Poems
,
Pond Cleaning Supplies
,
Pond Maintenance
,
Ripples
,
Spring Cleaning
,
Spring Countdown
,
Spring Fest.
,
Spring is Almost Here!
,
Spring is Coming
,
Spring Newsletter
Our Spring Newsletter, "The Aquagardener" has been being published now for 25 years! Please excuse the jumbled layout in places, this is from a quick copy/paste… A quickie for the Blog. If your not already on our email list, send me your email request and I will put you on our mail out. You will receive it quarterly. Thanks


CARTER'S NURSERY, POND, & PATIO, INC 
AQUAGARDENER  SPRING 2020 EDITION

 

 

 
MARCH 8TH
Daylight Savings Time 
So set your clocks FORWARD tonight.
The winter does not go without 
looking backward.
-Finnish proverb
Spring Festival & Customer Appreciation Day! 
We are hosting something for the whole family! We will hold Educational Workshops about pond & fish care for hobbyists and hard core pond lovers. Also we will have a Petting Zoo for the kids + GREAT FOOD for all! Come out and help us kick off SPRING!
This is a FREE event!
"The air is like a butterfly
With frail blue wings.
The happy earth looks at the sky
And sings."
     ~ Joyce Kilmer
       WHY HEIRLOOM SEEDS?
Remember those tomatoes your Grandparents grew, or the ones that the farmer down the road used to sell at his roadside stand?
With the advent of hybrid seeds, the older open-pollinated varieties are getting harder to find. While the hybrids have many advantages (disease resistance, greater productivity, more uniform fruit, etc.) they just can't match the heirlooms for taste, and isn't that why you grow your own vegetables? With a little extra care and planning, the heirloom varieties can do just as well as the hybrids in your backyard garden.
This year, why not try some of the simple old fashioned varieties in your garden? We think you will be pleasantly surprised! Don't forget to plant a few herbs, as well. They'll complement your fresh produce nicely on the dinner table.
After tasting your own freshly picked herbs, you'll readily agree to their superior taste! Once you try them, you'll always insist on growing your own!!  
SEED SAVERS SEED IS AVAILABLE FOR YOUR CONVENIENCE AT CARTER'S NURSERY. CALL FOR INFO ON VARIETIES OR STOP BY AND CHECK EM OUT! IF WE DON'T HAVE THE VARIETY YOUR LOOKING FOR WE CAN ORDER THEM FOR YOU!
"I wandered lonely as a cloud
That floats on high o'er vales and hills,
When all at once I saw a crowd,
A host, of golden daffodils,
Beside the lake, beneath the trees,
Fluttering and dancing in the breeze."
   ~ William Wordsworth, Daffodils
IMPORTANT MARCH DATES & GREAT TIPS 
FOR ALL THE GARDENERS OUT THERE
MARCH 8TH: DAYLIGHT SAVINGS TIME
   MARCH 9TH: 
Full Worm Moon:March's Full Moon goes by "Worm Moon" because earthworm castings appear on top of the thawing ground, heralding the return of the Robins. Northern Tribes knew it as the Full Crow Moon; to the settlers; it was the Lenten Moon or the Full Sap Moon.
GARDENING TIP FOR THE FULL MOON : 
Use coffee grounds as mulch around acid-loving 
plants such as azaleas & blueberries
Finish up the last of the 
Winter Squash from the root cellar 
by adding a cup of mashed, cooked 
squash and finely diced onion to 
corn bread batter. Yum ! ! !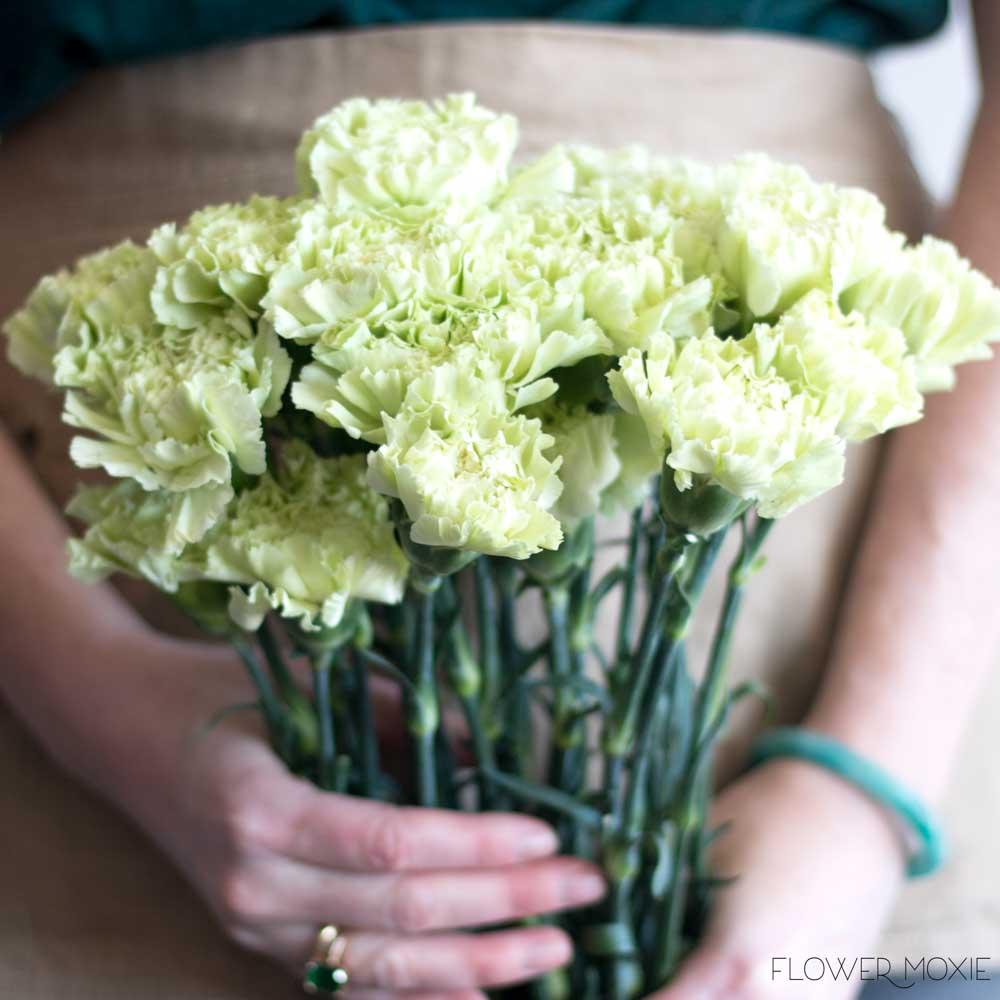 Put white carnations in warm water For a fun St. Patty's Day decoration, 
with a few drops of green food color.
In the spring,
at the end of the day,
you should smell like dirt.
-Margaret Atwood, Canadian Writer (b.1939)
The word "TARRAGON"
tarkhun, or "dragon", due to the 
originates from the Arabic word 
serpentine appearance of the plant's roots.
TIMELY ADVICE
Peas are a time-honored crop, great for early planting because of their love of cool weather and resistance to frost. But how early is early? Folklore may hold the answer. For a hearty growing season, tradition tells us that peas should be planted on March 17th, St. Patrick's Day.
( THAT'S WHEN MY GRAND PARENTS  ALWAYS PLANTED THEIRS). "To double up on good luck,"  also sow during the waxing Moon. Suspicious of sparrows? Hold a couple of pea seeds in your mouth while you plant without speaking- the birds will leave your crop alone. I thought my grandparents just liked peas so much; that they enjoyed sucking on them while they planted them. 🙂
Greetings from the garden… 
Spring is upon us! Daylight Savings time goes into effect THIS WEEKEND! The water temp is right to start feeding our Koi! And the whole world is coming ALIVE! I just LOVE this time of the year! 
We are about to kick off the season with our Annual Spring Fest & Customer Appreciation Day
on Saturday, March 21st
! YOU are invited to come out and enjoy the day with us 🙂 Pond Maintenance class, plant sales, a petting zoo for the kids, grilled food & beautiful gardens… I cant' wait! Y'all Come!
~ Mark Carter
It's Pond Clean-Out Season Again!  
 Carter's Nursery offers seasonal Pond Cleaning service for our customers. We will perform a full clean out of your Pond, Water Garden and/or Pondless Waterfall or Fountain. If you would like to get on  the Pond Service Schedule please call the office at  731-424-2206 and speak to Jo or Sandra to schedule it. Time is running out to schedule before it gets HOT, so call us right away to get on the schedule.  
Don't Let Algae Cramp Your Style!
Electronic Solution to String Algae
Beat string algae with an IonGen!
The IonGen™ System G2 Electronic Algae Controller allows you to spend your time relaxing next to your water feature instead of trying to maintain it!

 Drastically reduces pond Mainteneance caused by algae
Helps reduce unsightly string algae
Can be installed on existing Aquascape System
Compatible with water containing fish and plants
Energy efficient (less than $1.00 per month in electricity)
Unit weight: 3.3 lbs.
MSRP $450.00
Call to get your IonGen today!
(Installation services available) GET YOUR ION-GEN INSTALLED DURING YOUR POND CLEAN OUT AND YOU WILL SAVE MONEY ON INSTALLATION SERVICE.
"It was a weekly chore trying to remove the algae that grew on the rocks in our stream and waterfall. We installed an IonGen™ System and the algae simply went away and it hasn't come back since." – IonGen™ System User
"SPRING IS NATURE'S WAY OF SAYING, "LET'S PARTY!"
           – Robin Williams
WOULD YOU LIKE
 "A FACE LIFT "
FOR YOUR POND? 
Think of what women have gone through for years to look beautiful and fresh.
We've used all kinds of contraptions. From creams to actual contraptions!
Contraptions are not needed to update your pond and make it look beautiful and fresh again. It just needs a little TLC. Some of our customers have had their ponds for 15-20 years. They want something newer or just different. It doesn't take much to give it a "New" look either. We can add some bigger rocks or change out plants, widen a stream, or deepen a stream. Did you know we can even add another waterfall without having to rip anything out! If you have been thinking you wish your pond had a newer look then give us a call at the office to schedule a face lift appointment. 731-424-2206
HELPFUL TIP : IF YOU HAVE YOUR FACE LIFT DONE DURING A POND CLEAN OUT, IT WILL SAVE YOU MONEY TO DO THEM AT THE SAME TIME.
"Each leaf,
each blade of grass
Vies for attention.
Even weeds
carry tiny blossoms
to astonish us."


– Marianne Poloskey
For you DIY-ers out there, we also sell any supplies pond owners will need; to do their clean-outs their selves. Below you will find a Pond Clean-out Check List to help you along. If you're not sure what size filters you need, we can help you. Just come by or call! Also like us on Facebook & follow Mark's page for great details and tips.
'SPRING' POND CLEAN-OUT CHECK LIST  
1. Fish Net – Before you drain your pond for the spring clean-out, you'll need to catch and relocate your fish into a holding tank with a bubbler. Preferably in the shade. Buying a good quality fish net will help you do this without injuring your fish during the catch and release.
2. Planting Pots – Spring clean-out is a great time to thin and divide plants that have grown out of bounds or crowded a pot. Make sure you have some aquatic plant pots handy so you can re-pot and share your new plants with other water gardeners or expand them to other areas of your pond.
3.Extra Gravel – After the freeze and thaw of winter, you'll inevitably find rocks and gravel that have shifted, exposing bare liner. With an extra bag or two of gravel, you can cover exposed liner in a jiffy.
4. Lily Tabs – Take advantage of the water-free accessibility of water lilies, lotus, and other plants that may need to be fertilized, by having a container of lily tabs on hand when you're doing your pond clean-out.
5. Container for Plant Debris – Grab an old plastic plant pot or bucket so you can easily dispose of any debris that you gather from the pond bottom or from dead plant matter.
6. Rubber Gloves and Boots – Spring clean-outs can be cold, wet, and messy. Arming yourself with boots and gloves will go a long way toward making this chore much less unpleasant.
7. Fish Container and Bubbler Pump – A large tub will be needed so you can have a roomy place to keep your fish during the clean-out. A Bubbler Pump will help keep oxygen levels up for your fish and reduce stress.
8. Net to Cover the Fish Container – Fish, especially large Koi, jump, and they may very well jump right out of the container that you have set up for them. Be sure to cover it with a net that is pulled tight across the container to prevent them from jumping.
9. Pump and Discharge Pipe – To drain the water out of the pond, you will need a pump and some discharge pipe. It's OK to use your pond pump, but even better if you have an extra pump to lessen the wear and tare on your pond pump. About 2,000 GPH, depending on the size of your pond, will do the trick.
10. High Pressure Nozzle – Use a pressure nozzle on your garden hose to dislodge debris and algae from the rocks.
11. De-Toxifier – you should always use De-Toxifier to Filter and Purify the water going into the newly filled pond before you put the fish back in.
12. Expanding Foam – Expanding foam may need a bit of a touch up in some areas. Be prepared with a can of it just in case.
13. New Filter Mats – Filter mats should be replaced approximately every 3 years. If you think it might be time, be prepared by purchasing replacements prior to your clean-out.
14. Pruners – Part of a spring clean-out is pruning back dead plant material from the previous season. Make sure you have a good pair of pruners or scissors to get the job done.
15. Plastic Rake – You can rake the leaves right out of your pond with a small plastic (child's) rake. The plastic lessens the chance of damaging the liner and the small size makes it easier to maneuver in tight spots better than an adult size rake.
16. Beneficial Bacteria – Always follow up your pond clean-out with Beneficial Bacteria.
Carters Nursery, Pond & Patio 2020 EVENTS Calendar

 MARCH 21st – Carter's Nursery Spring Festival & Customer Appreciation Day! Something for the whole family! Workshops & classes, a Petting Zoo for the kids + GREAT FOOD for all! Come out and help us kick off SPRING! (Saturday 9am till 2pm) This is a FREE event!
MARCH 27TH & 28TH (Friday & Saturday)- The Spring Fling with the Memphis Master Gardeners located in the Red Barn at the Agri-Center in Memphis.
Come by to see our beautiful water features and talk to the areas best "Water Feature Experts"; the Carter's Nursery crew!
April 4th (Saturday) We will be setting up at the Tipton County Master Gardeners Annual Lawn & Garden Expo. in Brighton, TN Come by and see our display, and of course visit with our water gardening experts!
April 12th (Sunday) – EASTER

 April 22ND – EARTH DAY
April 24th – ARBOR DAY
May 10th – Mother's Day! DON'T miss this one!
Pond Tours in 2020

 We host 2 Pond Tours a year. A Summer Pond Tour (June 27th), & a Fall 'Moonlight' Pond Tour (October 3rd). Both are fund raisers for our local. Unique Water Gardens, Pondless Waterfalls and Fountains will be showcased on the Pond Tours.
Evenings By The Pond!

  Come out and enjoy a laid back evening by the pond. We always enjoy some good food, visit/meet friends & we try to always have an educational program on Water Gardens, Aquatic Plants, Fish OR some cool subject for all that come. These little get together's are held through the warm season and are in different people's homes & backyards. If you would like to come & enjoy the evening please let us know and you will be put on the e-mail invitation list. Call Jo at 731-424-2206.  – The 1st "Evening by the Pond" of the 2020 season will be hosted by Mark Carter & family at the Nursery Home on Thursday, May 21st at 6:30 pm. Address – 2846 Old Medina Rd. Jackson, Tn. 38305.
June 21st- Father's Day! Let's remember Dad!
June 27th– The 22nd Annual Summer POP Tour – Our 'Summer' Pond Tour (Always the Saturday after Father's Day) is A FUN and Beautiful Day! This is a Self -Guided Tour and a Fundraiser. Tickets are $20 ea. (kids under 12 are FREE!). Carters Nursery is "Pond Central" for the Pond Tour and we invite you to come by throughout the day to sit a spell, have a drink & something to eat and look at the BEAUTIFUL Gardens and Water Features.
~ This is also the night of the "Moonlight Luau!" Live music! + We cook a whole hog in the ground "Kalua Style" and have a party beneath the stars! This is a DON'T MISS event! More info to come!
July 4th (Thursday) – Independence Day! 
SUMMER SEMINARS (We do 3 every Summer!


 July 18th (Saturday) 9 am – 2 pm – "Get Your Feet Wet with Water Gardening".  This will kick off our Summer Seminar Series.
August & September classes to be Announced.
October 3rd – 16th annual Moonlight Pond Tour. This is our Annual Night Time Pond Tour! The tour always falls on a Saturday Night closest to the Full Moon!! Don't miss this Unique Garden Tour Experience! Tickets are $20 each (kids under 12 are FREE!). Carters Nursery is "Pond Central" for the Pond Tour and we invite you to come by throughout the evening  to sit a spell, have a drink & something to eat. Enjoy the Fire Pit and look at the BEAUTIFUL Garden and Water Feature Lighting. The nighttime garden is a magical world. The Moonlight Pond Tour is AWESOME!
October 17th – Fall Festival/Customer Appreciation Day- Come take part in our Workshops & Classes! FREE LUNCH for ALL that come! Petting Zoo & Pumpkin Carving Classes for the kids! BIG SALES for the Fall Season for all that come!
Thanks, and I hope to see you all here! Call me with any questions at #731-424-2206. Here's to a GREAT 2020!
You can see this info & more at our Blog –
~ Mark Carter

Copyright © 2014. All Rights Reserved.


Carter's Nursery, Pond & Patio, Inc.

,

2846 Old Medina Rd

,

 Jackson

,

 TN 38305
Mark Carter
Carter's Nursery, Pond & Patio
YouTube pg. –
Spring Newsletter | Carters Nursery, Pond & Patio | Jackson, Tennessee
March 14, 2019, 6:46 am
Filed under:
Family time
,
Fountains
,
General Blog Entry's
,
God Bless America
,
Koi
,
Koi Ponds
,
Lake and Pond
,
Landscaping & Gardening
,
Love
,
Nursery
,
Outdoor Lifestyles
,
Pondless Waterfalls
,
water garden
,
Waterfalls
| Tags:
Aquagardener
,
Gardening
,
Gardening Info
,
Heirloom Seeds
,
Koi info
,
Maintenance Workshop
,
Newsletter
,
Poems
,
Pond Cleaning
,
Pond Cleaning Supplies
,
Pond info
,
Spring News
,
Spring Newsletter
,
Spring Workshop
,
Water Garden info
https://l.facebook.com/l.php?u=https%3A%2F%2Fmyemail.constantcontact.com%2FAquagardener-Newsletter-Spring-2019-from-Carter-s-Nursery.html%3Fsoid%3D1102731551606%26aid%3DaRPL0X_7Wto&h=AT2OZlQooRTtWPKU4d-6q6mxbf9vlF4qa5gSdk-RcKXjlMhKF5U10RFyica5R5luIGbS1VKcxxJWiV1fjjrE1I9gNIN2oc7jFrpofBJifRsU4K4u7yFffVw_oewh&s=1
Happy Pondering 🤔
Mark Carter
Carter's Nursery, Pond & Patio
YouTube pg. –